One More Thing
Somebody has been murdered! The murderer is sure they will get away with it - but the detective is on the case, and quickly sees the truth of the matter. Both of them know that the murderer did it; the question is how to prove it.

Your story begins with the murder, and continues as a back-and-forth drama playing out in the view of an imaginary television audience. The Murderer never gets away with it, but they can control how the audience sees them in the end. Were they justified in their crime? Did they see no way out of an untenable situation? Or are they a cold-hearted monster who took a life for their own material gain?

One More Thing tells compelling stories of criminals bought to justice, in the finest tradition of TV detective dramas from the 1970s to today.
This is a two-player game, but it can be played in teams as well. It takes between one and two hours to play, depending on whether you choose to play in:
Writers Room Mode, in which you create everything yourselves: the Murderer, their victim, what drives the murder, the Detective and their quirks, and all of the Clues involved. This mode is more of a freeform role-playing experience.
On Assignment Mode, in which you choose one of the included Cases and get right into the game! Each Case gives you all of the details on the Murderer, Detective and the murder itself, as well as a predetermined set of Clues. This mode is more structured and supports learning this kind of game for those who haven't played one before. It's also good for shorter games!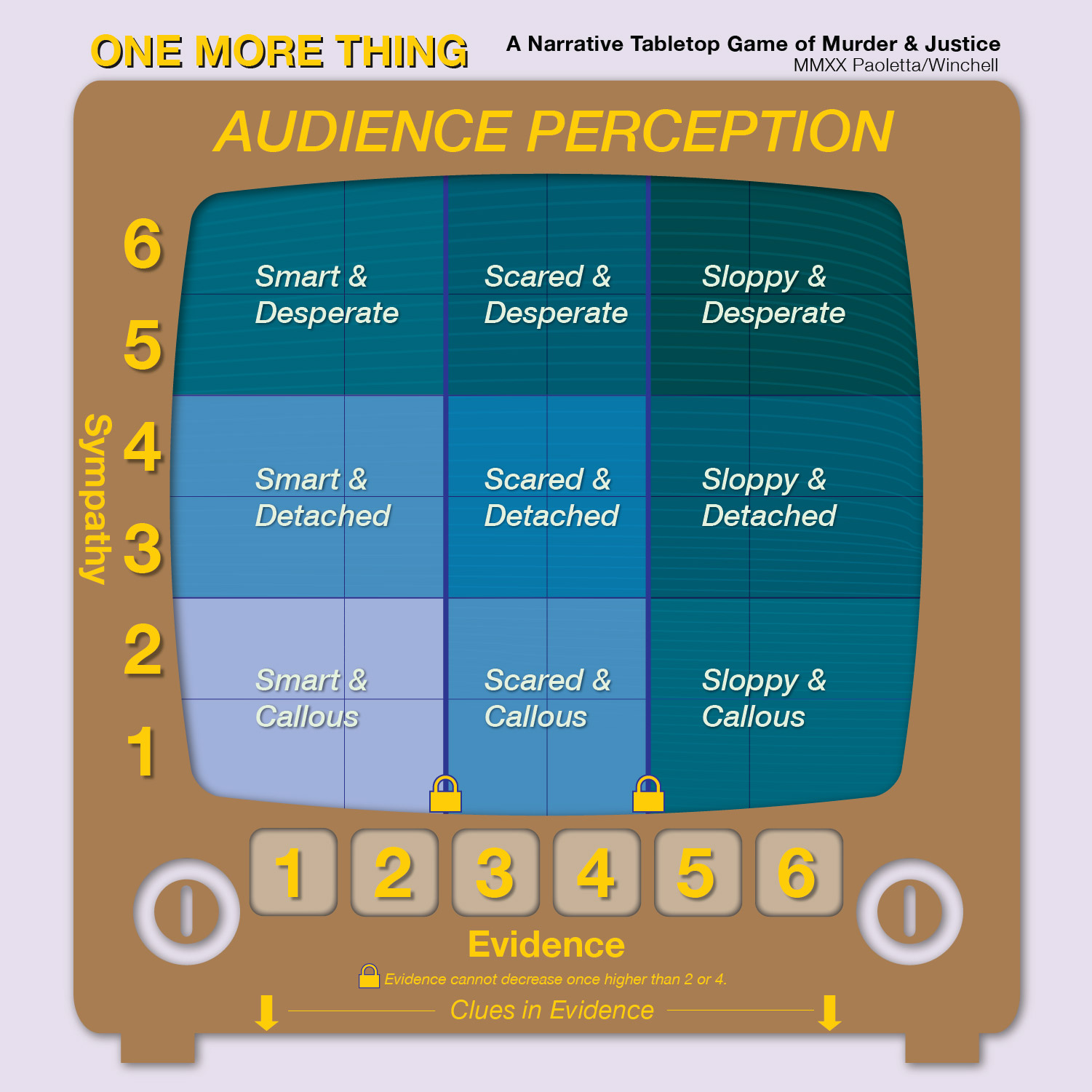 Your story is being watched by an audience, and you track how they see the Murderer on this board.
You can check out the playtest preview version for free - the game rules are mostly there, but the full release has been fully revised with examples and additional material, including five original cases for On Assignment Mode:
Fatal Countdown: 1962, Cape Canaveral. A diplomat murders her identical twin sister and stages it to look like a botched assassination attempt!
Death of the Heart: 1974, Los Angeles. A celebrity surgeon accidentally murders his wife with an experimental treatment, and frames his former mentor for it!
Eagle's Last Ride: 1986, Malibu. An action movie star murders his costar after their affair sours, and tries to make it look like an accidental overdose!
The Past Never Dies: 1997, Groton, Connecticut. A retired general faces the revelation of war crimes from his past, and silences his accuser with a shovel and an open grave!
Secrets & Sixguns: 1859, Gila City, New Mexico Territory. A man is dead, and either the outlaw or the marshal did it. What happened? This case is played with the Amnesiac Whodunit rules twist!
One More Thing is a game by Nathan D. Paoletta, with art and additional development by Stephen Winchell.
Purchase
In order to download this game you must purchase it at or above the minimum price of $9.60 USD. You will get access to the following files:
One More Thing - April 2020.zip
10 MB
Download demo